This month's X Report takes a critical look back at common setbacks, and charts a new course for inclusive and connected learning. We explore the EdTech and WorkTech trends that are here to stay and evaluate AR and VR activity in the education industry. Each month we share a snapshot of key trends, showcase the stars of today and tomorrow, offer our insight on mergers, acquisitions and fundraising, as well as providing some further food for thought.



The Stakes of Inclusive EdTech: Getting the Ecosystems Right
Ms Stefania Giannini, UNESCO Assistant Director-General for Education
In the space of a few weeks in early 2020, global education was thrown into emergency mode at a scale unparalleled in recent history. And like any emergency, the response required speed, audacity and readiness to experiment with new approaches. This was a race to maintain formal learning in face of near universal school closures, and it leaned heavily on connected technologies.
Two years into the pandemic, with schools reopened in most countries, it is time to touch the pause button. Was the pandemic the breakthrough moment for edtech? Certainly, we've seen innovation and mobilization at a pace never before witnessed in the education sector. But the experience has also been a humbling one, a reality check that provides us with an opportunity to see technology anew and in ways that could set an entirely new, more inclusive and more equitable course for connected learning.
While tech solutions made it possible for learning to continue during school closures, for nearly 500 million learners it was a solution that never started. For millions more, it was one that quickly broke down. Half the world's population lack a functional internet connection. Over 700 million people don't have access to electricity. The gender digital divide significantly constrained girls' ability to learn online. The cost of devices is simply prohibitive for poor families. Beyond the hardware, there are further obstacles: teachers' lack of readiness to use technology; available space to learn at home, the ability of families to support their children's learning…
This reality check is healthy for moving forward. The pandemic reminded us of the value of schools as places where young people meet in-person, face-to-face and develop socially and emotionally, as well as academically. The assertion that technology will enable education to leapfrog to a better future has proven persistently elusive. Education, we must always remember, is a social, relational and human process, and it would be dangerous to narrow down the prescription to single solutions, especially ones that sideline humans in favor of technology.
At the same time, there is no doubt that the tide has turned. We have seen just how necessary digital skills have become for learning, work and life. We've seen the powerful ways collaboration can help us find solutions to novel challenges, as well as those that have been with us for decades. Edtech and other partners were quick to rally around UNESCO's Global Education Coalition which joins up multiple partners around a mission of improving and expanding education - and it is having impact.
Now, the challenge is going to scale, and doing so in the right way. Just as it is said that it takes a village to raise a child, it takes an ecosystem for edtech to take root - one involving governments, companies, universities, and of course schools and teachers. The mission of such an ecosystem must be clear: if education systems are to recover and make a dent in a pre-existing education crisis, edtech must be at the service of inclusion and equity.
It's in this spirit that UNESCO, with the support of Dubai Cares, has developed a Global Declaration on Connectivity for Education to provide the roadmap we need to make technology work for education, instead of making education work for technology. It will further allow us to step-up financing to advance inclusive education, putting the human factor center-stage. This is the way forward hand-in-hand with edtech.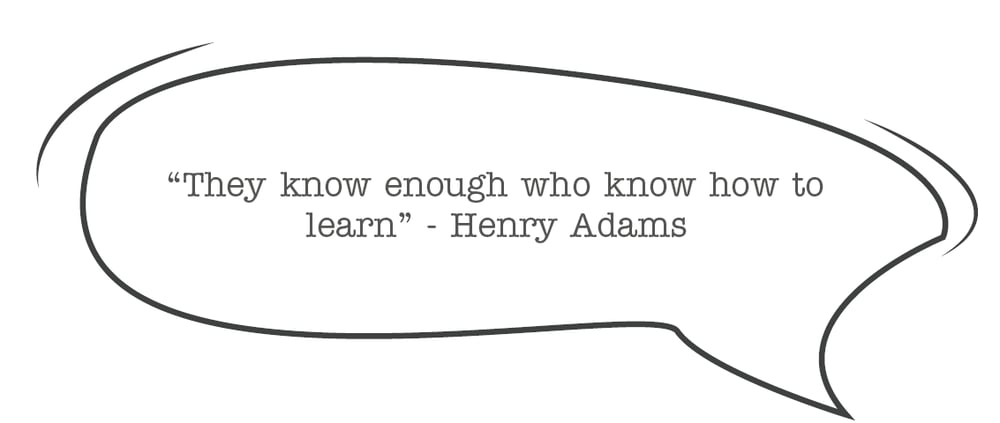 The pandemic EdTech and WorkTech trends that are here to stay
Digital technology adoption accelerated by several years during the pandemic, and as people went online to learn, work, stay connected and entertain themselves, new digital habits emerged. While some of these changes will fade away as the COVID-19 crisis subsides, many are expected to stick1.
The rapid acceleration in e-learning has prompted public and private sectors to undertake ambitious plans pertaining to online tutoring and digital content delivery. Although digital usage is expected to drop once the pandemic eases, many students still want the option to study online. We can therefore envisage a hybrid model of education, with a continually growing online learning component giving learners a "phygital" experience with flexible online access to learning, while teachers continue to facilitate human interaction and inquiry in the classroom.
Massive Open Online Courses (MOOCs), which offer free online courses from top universities and microcredentials - stackable learning units that can be combined into a degree - saw enrolments surge during the pandemic as learners sought alternative learning options when campuses closed. One third of the learners that ever registered on a MOOC platform joined in 20202, a trend that is likely to continue even after the pandemic passes. The trend has been further heightened by organisations prioritising the closing of skill gaps, with 2021 seeing a five-fold increase in employer provision of online learning opportunities for employees3. Critical skills have become the new workplace currency, promoting an increasing trend towards continuous learning.
These digital learning experiences set a good precedent in preparing students for the new 'remote first' world of work. With many companies forced to adopt a hybrid or fully remote policy during lockdowns, many business leaders have embraced the associated benefits and declared remote work a permanent part of their company strategy. Large corporations including Twitter and Slack have already given employees the option to work from home permanently. The remote workforce has brought with it advantages from both a hiring and business continuity standpoint. According to Forbes, 74% of professionals expect remote work to become standard. For employers, adopting a hybrid model of work is going to be critical in attracting and retaining talent in the future.
Covid-19's legacy has changed how we will learn and work. Crucially, employers and online learning providers must now ensure they focus on the key areas that offer true value to their stakeholders by providing an improved and personalised user experience, safety and privacy assurances, and, most importantly, a premium phygital experience.
1McKinsey 2ClassCentral Report 3World Economic Forum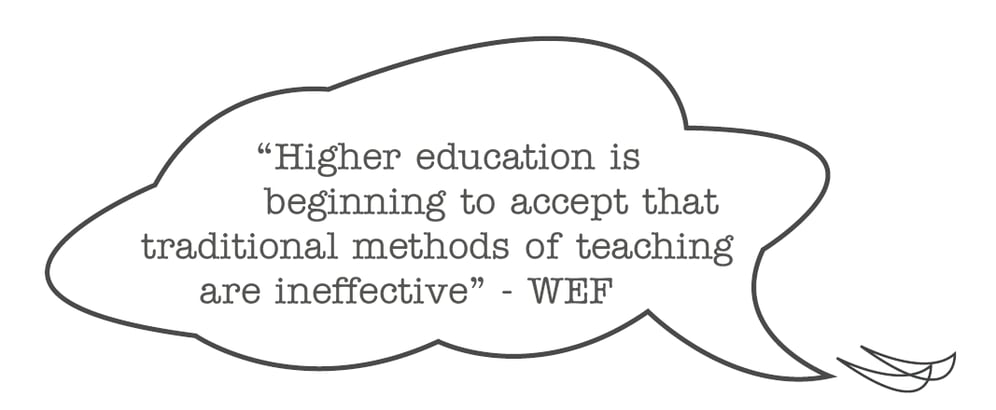 M&A Activity >
---
Significant Fundraising Activity >
| | |
| --- | --- |
| | |
| | |


Spotlight on Augmented and Virtual Reality in Education
Key Points
Augmented and virtual reality expenditure in the global education market is expected to grow from $1.8 billion in 2018 to $12.6 billion in 2025, a CAGR of 32%. Both the AR and VR verticals have the potential to solve key learning challenges such as engagement and personalisation, but also offer the opportunity for lower cost training in industries such as medical, defence and aerospace. AR and VR startups focusing on education range from mobile solutions that allow multi-use in schools and the redefinition of experiential learning, to alternative models for vocational training in physical trades and lab learning.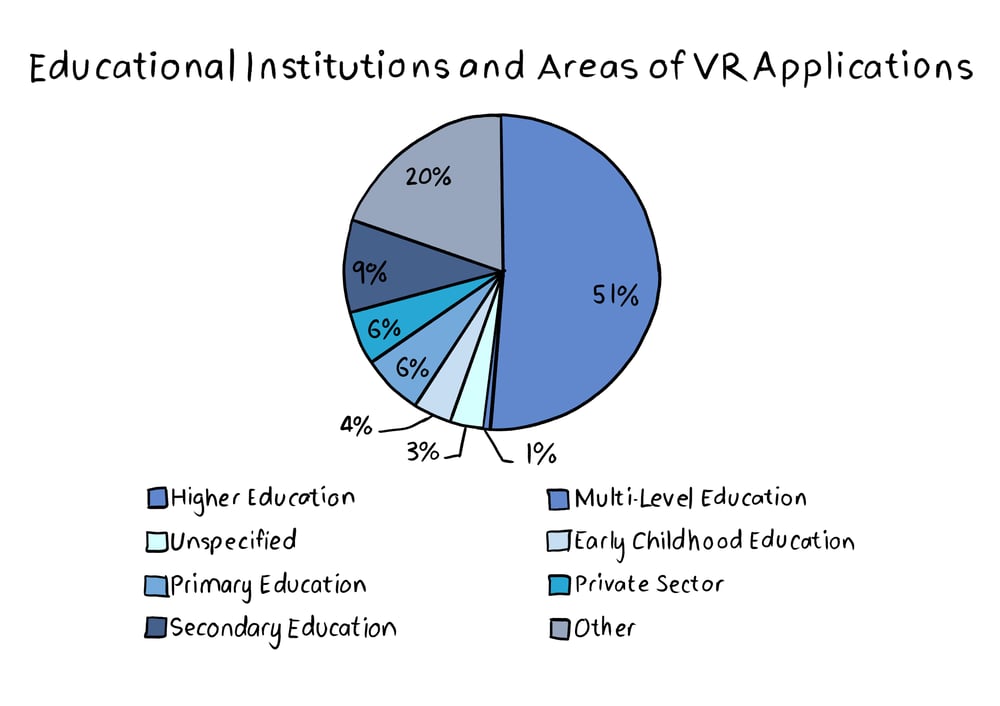 Virtual reality technologies are not yet a ubiquitous feature of educational institutions, being seen as "nice-to-have" add-ons to traditional modes of teaching and working rather than essential aids. However, as these technologies become more affordable and their use cases become more evident, there will be increased opportunities for VR capabilities to be built into education frameworks at all levels. Currently, higher education institutions account for 51% of VR applications within the education sector. Popular applications of VR in higher education include fundraising, student recruitment and immersive learning. Secondary education accounts for 9% of VR applications within the education sector. Digital Teaching Assistants (TA's) are a key VR feature of many K12 classrooms worldwide. These voice activated TA's actively participate in, and sometimes lead, class learning activities. Furthermore, most startups within the K12 market offer a VR "bento-box" solution for teachers, complete with "ready-to-teach" lessons, software and sometimes hardware.

Over the past few years, there has been a steady increase in fundraising activity within the AR and VR in education market. This is expected to continue to increase as AR and VR in education sees increased adoption rates within educational institutions as a result of more awareness of the technology's applications. Funding rounds have typically been small-scale, however, as the market matures, we can expect to see an influx of larger rounds. A notable startup within the AR and VR in education market is Denmark-based Labster, who offers virtual laboratory simulations and has raised a total of $103.5m in funding. The Company's virtual labs are used by more than 2,000 institutions. In addition, EdTech platform provider Nearpod, is also considered a key player within the market and has raised a total of $30.7m. Nearpod's platform currently enables 1.2m K12 teachers around the world to create interactive slides filled with videos, quizzes and other activities.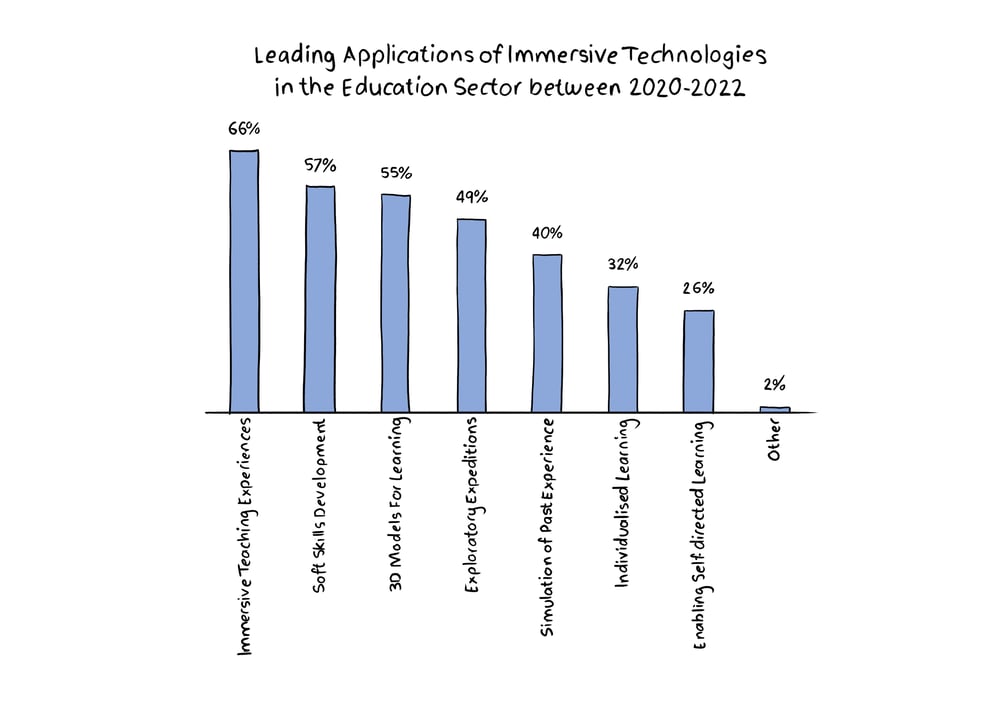 The strong growth profile of the AR and VR in education industry will most likely trigger increased investor interest, as well as larger funding rounds and valuations. This is likely to develop as these technologies become more embedded on a wide scale within multiple educational institutions. AR and VR in education is an exciting space to watch with large potential and we will continue to discover the many opportunities that its offerings present to improve the current state of learning.