Announcing our winners for the 2023 EdTechX Awards!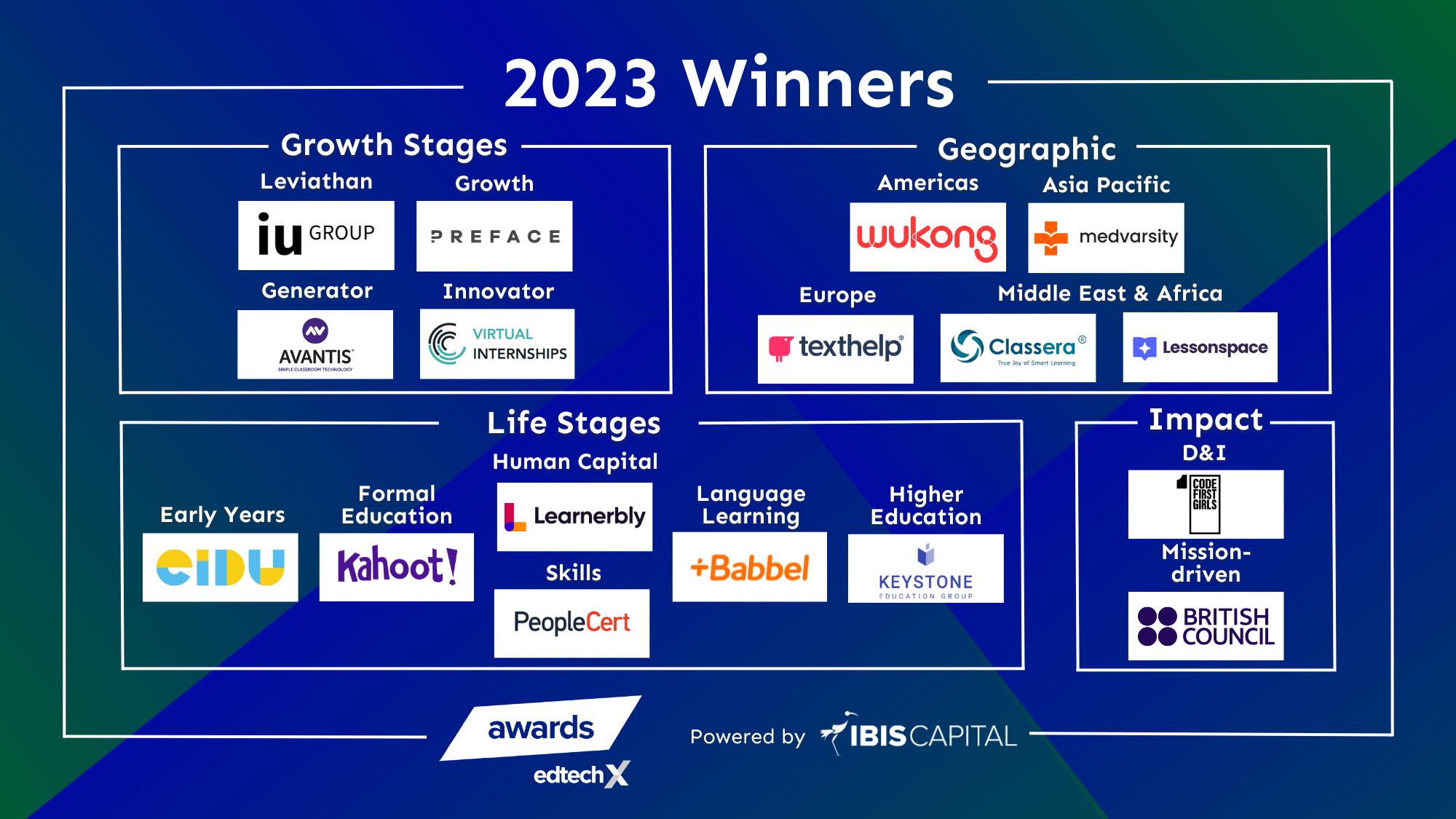 The finalists for the 2023 EdTechX Awards!
The EdTechX Awards Gala Dinner
The inaugural EdTechX Awards Gala Dinner will take place on the evening of the EdTechX Summit, celebrating the finalists and announcing the winners from across the global EdTech and WorkTech sectors.
Date: 22 June 2023
Venue: Tobacco Dock, London
Dress code: Business casual
Provisional timings:
16:45
EdTechX Summit Closing Cocktails
18:30
19:00
Awards Presentation - Part 1
19:30
Dinner
20:50
Awards Presentation - Part 2
21:20
Networking
22:00
Event Close
This is set to be a fantastic evening where we bring together a high-quality community of founders, business leaders, and investors for a celebration of innovation and impact. Our expanded format will offer greater exposure to our finalists, a more meaningful platform for our winners, and allow greater integration from our sponsors and we can't wait to celebrate achievements across the industry.
Limited seats available!
There are a limited number of places available at the Awards and we have options to buy a single seat or a table of 10 seats for you to share with colleagues, partners, and customers.

All Awards seating packages include a pre-awards sparkling reception and 3-course dinner with 1/2 bottle of wine per person.
Tables of 10 also include 'awards supporter' branding in the pre-event campaign and onsite during the event such as table & signage branding.

Those with an EdTechX Summit pass qualify for a 30% discount on tickets to the Awards! If you have a summit pass and want to attend the awards, please contact us for a single-use discount code to use during booking.

Single seat - £250+VAT (or £175 with a summit pass)
Table of 10 - £3,999+VAT
With thanks to our sponsors
Sponsor the Awards
Sponsorship packages include award category sponsorship, the contribution of valuable and relevant products and services to the winners' prize packages, thought leadership opportunities via our digital channels, a table of 10 seats at the awards gala dinner to host clients and partners, and branding across the digital pre-event campaign, at the venue during the summit and at the evening gala dinner.
If you are interested in being a partner or sponsor of the 2023 awards, contact us for more details >>